In Memory
Sandy Olson (Cunningham)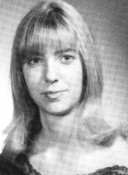 Sandra Diane "Sandy" Cunningham, 441 N. Baer, Apt. D. died September 1, 1995, at her home. She was 48. She was born May 13, 1947, at Lindsborg, to Harold and Madelyn Cooper Olson. She was a bartender at Wichita Greyhound Park and lived most of her life in McPherson. She attended First Baptist Church. She married Gary Cunningham and was later divorced.
Survivors include: her husband, Claire Miller, of the home, one daughter, Tammy Cunningham Geren, McPherson; her mother, Madelyn Gregory, Pratt; her father, Harold Olson, Colorado Springs; three brothers, Michael Olson, Colorado Springs, Dr. Gregory Olson, San Francisco, California, and Gary Gregory, Overland Park; two sisters, Roxann King, Hodgenville, Kentucky and Teri Dyck, Germantown, Wisconsin; and three grandchildren.
Memorial services were conducted at 2 p.m. today at Ball and Son Funeral Home with the Rev. Chris Whitacre officiating. Memorials are suggested to Central Homecare and Hospice.